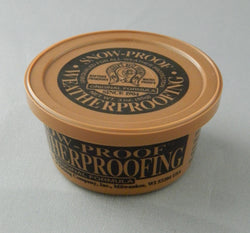 Waterproofing - Snow-Proof Weatherproofing
We did the research and Mink Oil is still the most effective, natural way to protect your shoes.
Since 1904, this has been the best weatherproofing formula for smooth leathers. Softens, waterproofs, restores and preserves all smooth leather articles. Colorless, odorless and non-greasy. Perfect for saddles, boots and other leather articles subjected to rugged use. 3 ounce size ships in 1 dozen point of purchase display boxes.
NOT FOR SUEDE